Kristin Engbrecht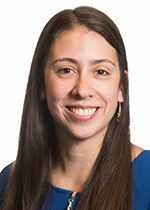 Pacific Northwest National Laboratory
PO Box 999
Richland, WA 99352
Send Email
Biography
Kristin came to the PNNL in 2016 and joined the Ecology Group in 2018. Prior to joining the Ecology Group, she worked in the Environmental Molecular Sciences Division as a Post Masters Research Associate.
Research Interests
Fish passage and survival through hydropower facilities
Ecology and physiology of fish and amphibians
Education and Credentials
M.S., Zoology, Washington State University
B.S., Biology, Washington State University
PNNL Publications
2020
Pflugrath B.D., R.A. Harnish, B.M. Rhode, K.M. Engbrecht, B.V. Beirao, R.P. Mueller, and E.L. McCann, et al. 2020. "The Susceptibility of Juvenile American Shad to Rapid Decompression and Fluid Shear Exposure Associated with Simulated Hydroturbine Passage." Water 12, no. 2:586. PNNL-SA-151360.
2019
Easterling M.R., K.M. Engbrecht, and E. Crespi. 2019. "Endocrine regulation of regeneration: Linking global signals to local processes." General and Comparative Endocrinology 283. PNNL-SA-149328. doi:10.1016/j.ygcen.2019.113220
Pflugrath B.D., R.A. Harnish, B.M. Rhode, B. Do Vale Beirao, K.M. Engbrecht, J.R. Stephenson, and A. Colotelo. 2019. "American Eel state of buoyancy and barotrauma susceptibility associated with hydroturbine passage." Knowledge and Management of Aquatic Ecosystems. PNNL-SA-138255. doi:10.1051/kmae/2019012
2018
Xu L., D. Naylor, Z. Dong, T. Simmons, G. Pierroz, K.K. Hixson, and Y. Kim, et al. 2018. "Drought delays development of the sorghum root microbiome and enriches for monoderm bacteria." Proceedings of the National Academy of Sciences of the United States of America 115, no. 8:E4284-E4293. PNNL-SA-131119. doi:10.1073/pnas.1717308115